THE CEO'S GREATEST ASSET
THE ART AND SCIENCE OF LANDING LEADERS
Overview
CEOs and leadership teams speak about how people are their greatest asset. One would think that in pursuit of their prized assets, there would be a structured and reliable way to make informed decisions about who to hire.
Judging by the processes Fortune 500 companies and others follow to hire executives, it seems like they're not entirely sure what they're doing. From outdated, unreliable competency question frameworks to psychometric tests that have no scientific validity, it is little wonder that it's often left to guesswork and gut feel to make such important hiring decisions.
This book aims to do three things. Firstly, review what over 100 years of social science has taught us about what we should be looking out for in executive talent acquisition. Secondly, it aims to dissect what is wrong with how we currently approach executive hiring. Finally, it proposes an entirely new interview and selection framework based on four new dimensions of leadership and 12 related traits.
The goal is to replace outdated competency interviews and guesswork, or at the very least, to encourage readers to start questioning everything about how they currently approach executive talent acquisition.
Written by Fraser Hill who has spent his twenty year career living and working all over the world, from Asia to Eastern Europe, the UK, Canada and now the USA, advising and headhunting leadership teams in Fortune 500's and high growth companies.
About The Author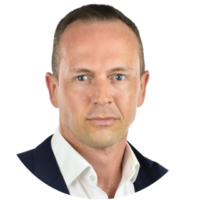 Fraser Hill, spent twenty years working all over the world in executive search and leadership advisory. On his travels, whether it was working for a Fortune 500 or a high growth startup, he observed the same candidate selection process. Different interviewers asking different questions with different agendas and different biases.
Competency behavioral interviews became popular where candidates can handpick the best examples from their career at random, which does nothing to tell the full story. Then AI, gamification of psychometric tests, and video interviews arrived. He thought that moving a poor interview process onto video doesn't solve the issue of poor interview structure.
In 2012 he embarked on an eight-year research project that included over 1700 executive leader interviews and culminated in the publication of this book, The CEO's Greatest Asset – The Art and Science of Landing Leaders.
Sign up for content on leadership, talent, and organizational strategy